By Alex "The Savant" Heisman
Well….in fact, I don't want to say much more than just: …well. I have never been more disappointed with the overall annual list of Academy Award nominations as I was this year. I am fully aware, of course, that one must take the nominations with a grain of salt and that, more often than not, AMPAS is not a true bellwether of "best" and "greatness", as they so readily purport to be.
This year's nominations, however, finally made me acutely aware of the infamous "turnover moment" that all the Oscar prognosticators that came before me speak of. This moment, and this is not myth for they each detail the moment it happened to them, refers to the literal single second when Oscar bloggers learn to stop caring. These bloggers certainly still care about film, the state of cinema, and how their predictions reflect who eventually wins/loses, yet, perhaps due to a terrible roster of nominations, they just don't personally give a damn as to
who
the nod goes to. (David Carr of "The Carpetbagger" even famously gave up covering the entire Oscar race forever, as he was so disillusioned with the 2008 roster). Through my nine years of Oscar watching and obsessing, I have invested myself deeply with the course of a few particular films or performances each year, becoming severely distraught when these selections don't even come close to winning. How! Why! How Can This BE!?!, I ask myself rhetorically, never expecting nor receiving any answer. It is with an unfortunate voice, and a morbid tone, that I then compose this article. For you see, roughly around 8.42 am EST on Tuesday, January 24
th
, 2012, I stopped caring.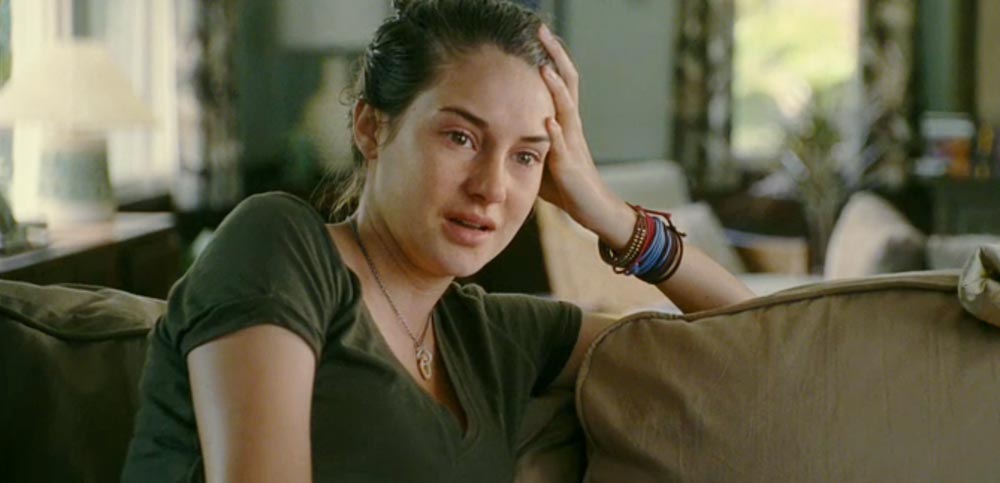 Shailene just doesn't understand it either. ©filmofilia.com 2011
I eagerly and anxiously awaited the start of the announcement ceremony at 8:38 am, yet when the four minutes were up that it took to recite who did and did not get nominated, I saw what a tremendously atrocious selection of final contenders we had. I then clearly and distinctly experienced my turnover moment. I now can only forever examine the Oscar race without emotion or personality. I even remained on board the ship when they gave Sandy Bollocks Best Actress two years ago. In the most unpredictable and fractured Academy Award race I've ever experienced, the most bland and tasteless selection of nominees has presented itself.
Instead of a traditional nomination recap where I look at a select group and analyze this or that, you can see I'm four paragraphs in and I haven't even mentioned a single nominee. It's not even worth it.
There were obviously a few nice shockers, however; I still can't believe they went for Gary Oldman's massively layered and complex performance in the brilliant Tinker Tailor Soldier Spy. Also, kudos to them for highlighting Max von Sydow's heartbreaking acting in Extremely Loud & Incredibly Close.
Otherwise, RIP Michael Fassbender's massively brave and literally naked performance as a sex addict in the harrowing Shame. RIP Albert Brooks, in a perfect career resurgence, as the most menacing and crazy gangster to ever grace the silver screen. RIP Shailene Woodley, who showed that extreme beauty and talent for someone not yet even legally able to drink doesn't have to get in the way of one of the most heart-rendering and poignant scenes of the year: the pool scene. Come on Academy, really….you obviously saw The Descendants. You nominated it a whole bunch of times elsewhere. Did you even FREAKING see the pool scene?? It's one of the only scenes everyone's talking about this year! Well… (and there's that
"well…" again) apparently not. Looking at this embarrassing list of exclusions, who's even left that I could root for this year? Oh, yea, hi Meryl! (:
Oh, but excuse me! I'm not letting passion get in the way anymore.
I, of course, will follow the race closely over the remaining four weeks, but I won't care a lick. That'll make it that much easier to put a brave face on whenever I am reminded that I must now and forever refer to these people as "Academy Award Nominee Jonah Hill", and "Academy Award Nominees Melissa McCarthy and Kristen Wiig".
__________________________________________________________________